Starting December 1, 2022 through August 27, 2023, Museum Het Schip is presenting an exhibition on the relationship between Indonesia, the former Dutch East Indies, and the Amsterdam School movement.


The Amsterdam School is known for its expressive and imaginative style. The fact that the visual language of the Amsterdam School is indebted to cultural expressions from Indonesia is a lesser known phenomenon. Javanese temples, Indonesian folk architecture and crafts made a deep impression on artists and architects.

In the exhibition Indonesia and the Amsterdam School, Amsterdam School Museum Het Schip reveals how artists, designers and architects of the Amsterdam School were forged by the colonial link with Indonesia. How did they incorporate Indonesian forms, ideas and techniques in their work? What part did Indonesians themselves play in this? And how did they view and perceive these influences?
---

Webinar series (free)
In this brand new Webinar series, Museum het Schip joins forces with Heritage hands-on, Pusat Dokumentasi Arsitektur, and Yayasan Museum Arsitektur Indonesia to explore these relations by inviting heritage experts, historians, architects, curators, and artists.


---

Exhibition texts in Indonesian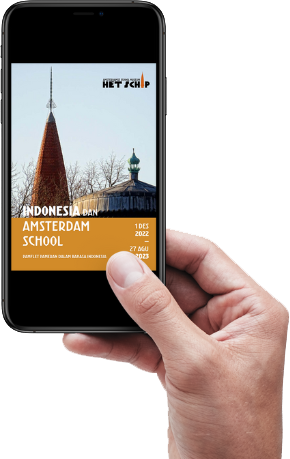 "Apakah kamu berbicara bahasa Indonesia?" The room texts accompanying the exhibition 'Indonesia and the Amsterdam School' are now available in Indonesian in addition to Dutch and English. Visitors can use a translation in the form of a booklet as an aid for viewing and interpreting the exhibition. The translation is in line with the aim of Amsterdam School Museum Het Schip to be a barrier-free museum accessible to everyone.


---
The exhibition Indonesia and the Amsterdam School was supported by: